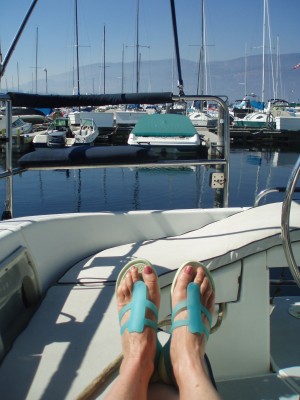 Work, life and things in between – Day 68 – A whole day off!
That entire day was intended to be a day off.  No class, no lunch, no appointment, totally free and the plan was to make it day one of my 30 day yoga extravaganza (I was still trying).
Unfortunately, I spent the first 2 hours trying to locate an AC adaptor for my lap top.  No, it was not as simple as walking up to Future Shop and buying one.  Even I had thought of that.  Although they make it sound that everything is simple when you buy it.
The model I bought is "particular" they said.  For that reason, even the universal model that fits "all types" (except mine of course) does not fit. You think they tell you how  "particular" it is when you buy it?  I sure don't recall having that conversation!
So Samsung, the manufacturer, has a single warehouse in Canada and it is in Ontario.  Roughly a 5 day trip…by car! Of course they offered to mail it. They had a first section (the adaptor) and confirmed that I could have it in one week.  The other section was not available.  It would have been another 10 to 15 days before I got it.
Should I ask them to ship it to Vancouver or to Montreal since I was leaving in exactly 13 days to fly east?? That was the question which by the way I never answered.
Forget the manufacturer I thought.  I was sure I could find clones somewhere.  I went on E-Bay, visited Craig's list, called my friends, had them beg their IT departments to find a compatible cord. Nothing worked.  Finally I did as I always do, swear, curse, break down and ended up calling my Technician.
I was hoping he would have more success than me, but he did not. Meanwhile I reverted to working on my home PC, the type you need to crank up manually (almost!) with an older version of everything, a much slower processor and a wobbly keyboard.
This is why I hate these things, They are designed to make your life easier, but everything about them is always so complicated.
O crap! am I dating myself here? To day 69.