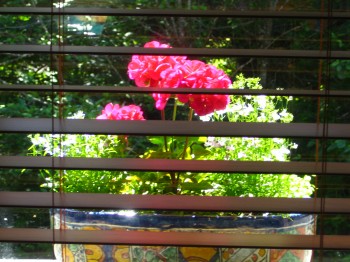 Work, life and things in between – Day 105- On the outside!
I was not sure what to expect from that meeting and I was not sure why I cared so much about it either.
All I knew was that I had been preparing like crazy for it . Before heading out the door that morning I did what every new kid out of College does on her first interview: Washed my hair, pressed my skirt, filed my nails, checked my shoes, and grabbed my updated cv. Somehow I felt like twenty again! I could not remember the last time I went for an interview.
Walking to the train station, I was not even listening to music.  I was focused.  On a mission.
I got there on time, relaxed and feeling good.
The building was under construction.  The business was on the 2nd floor.  There were no walls, no doors, wires hanging from the ceiling, and jack hammers making any other noise a mute point.
The President, whom I was scheduled to meet, quickly shook my hand, apologized for the place, and introduced me to her partner.  He was the one I was going to meet.
I was thinking I was off to a bad start.
We headed out, walked up the street to a nearby cafe. First thing he told me was that they do not recruit for boards.  They merely work with them in areas of governance. So this was not even going to be an interview after all!
I was initially disappointed. I am pretty sure he was uncomfortable. He looked as though he thought he should be offering me something, so he went for advice: joining a sports team, a running group, local business breakfasts…the usual stuff about networking. Please! do I look like such a rookie?
I had not come for a life make-over! I had come for a position. I did not want his advice, I wanted his help. One woman's need does not create a man's obligation. I get it. One hour later, we shook hands and I departed.
Why I felt like a twenty year old who had just been told she should have polished her shoes before going to the interview?  Not sure.
Again, why so much pressure going into that interview? Not sure either.  In my entire career, I only interviewed four times and three were successful at the first attempt.  The one that got away was the one I most wanted I seem to recall.
Something about not wanting it too much is probably better!
Sitting on the train, riding back to town, I am impressed by how very, very different it is to be sitting on the other side of the decision. Being on the outside instead of the inside. Being the subject of decision, rather than the decision maker. It is hard.  It is nobody's fault and you can't get upset.  You cannot complain either.  Nobody wants to deal with that.  You can only suck it in.
At my age, I have a whole career behind me so I can always look back and know what I am capable of.  I felt for my children and their friends who are starting out, looking for a first job out of university.  How can they possibly make it?  Or is it easier for them? Perhaps at times, ignorance is blessed.
Maybe I was seeing things bigger than they were.To day 106.