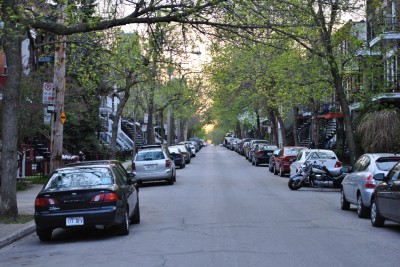 I am now in Montreal.  It is hot and sticky today.  I spend most of the afternoon with Tem shopping for furniture, beddings, pots and pans and assorted household goods. I hate shopping. Did I say this already?
Only Tem can make this remotely enjoyable.  Luckily, we are on fire today and everything is working out real well.  Three hours later I have found everything I need, arranged for delivery, and completely alienated my credit card.
I have a condo in Montreal which I use when I visit my family and friends.  Since I frequently traveled to the south eastern end of the United States on business, I sometimes headed north to be in Montreal before making my way back home on the West Coast; thus the condo (and the frequent flyer status!) and the confusion for my children to know where I was at any given time.
I fully understood this one day when my daughter called me.  "Where are you Mom?" I answered "in a nice Italian restaurant with friends". " No! I mean what city are you in?" she replied.  Sometimes you lose perspective!
Now however, I no longer work and I no longer use the condo since I stay at Tem's place when I am in town.  Common sense is to rent it; furnished preferably. Thus the shopping. It was missing a few items.  This still feels like work though.
Actually, I am starting to wonder what will have to happen for me to feel like I am not working.
How do I define work after all?
A chore I need to get done so I can move on to the things I really like?
A gathering of endless frustrations which get in the way of doing what I really want to do?
Starting to sound like it. Pathetic.  How much "undoing" will I have to do before I get to the real thing?  When was the last time I loved my job so much it did not feel like work?
Luckily, I do remember times when this was the case.  Traveling back in time I seek to find what was in that job to make it an "unjob"? Mostly an inspiring Boss.  Then the ability to break ground and innovate and finally, the quality of the relationships with peers.  Once you have this, it does not really matter what part you have in the play.  You feel front and center on stage and life is good! To day 30.