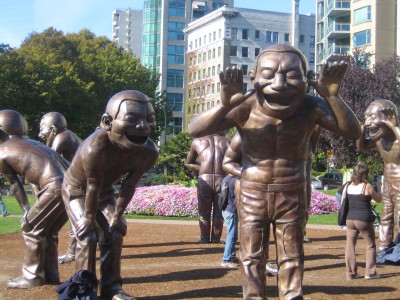 Sunday morning. Ho! This is different.
Sundays are different.  This is when I should do something fun.  No errands, no work, just fun.
This is also the day when I need to leave my friends alone.  The majority of them are in relationships.  I see them one on one during the week when we go for coffee or Wings as we say (wine and wings) but on Sundays I don't bother them.
So I am on my own . However, I  need to go out and play just the same. I take a look at what the city has to offer today.
I read the paper and find out that:
There is a home design show on.
There is a screen representation of the Opera at the Met.  This is a 4 hour commitment. Too much.
It is sunny and I could walk the Sea Wall.
There is the Cure for Cancer run, the re-opening of the Aquatic centre where I could go and swim laps and go to the sauna.  This is always a favorite of mine.
I also think I need to get serious with my eating patterns, get back to cooking and try to lose those extra pounds.  I figure that the best way to do so is to start with cooking a low sugar jam! I go on line looking for recipes and come across websites of various interests.  Before I know it, I am browsing yoga sites and fashion sites.
I was never diagnosed with ADD though….perhaps I never had a good doctor!
Being that it is Sunday, I call my Mom, Tem, my kids, and my sister and before you know it, it is 3 pm, I am still in my PJ and the sun has turned into rain.
Now I panic.
Is this what my life is going to be like? Much ado about nothing? Calm down! This is just a lazy Sunday.  It is ok.  I am entitled to this.
At least I decide to go out for a walk.  I used to be at the gym religiously four (4) to five (5) times a week.  I love walking, speed walking, roller blades, swimming, downhill and cross country skiing and occasionally biking and golfing.  I hate jogging.  I head out for a tour of the sea wall and end up just going around the lagoon and through Stanley Park to English Bay.
My energy level is not back.
I head back home, pour myself a glass of red wine, sink into my favorite armchair and pick up my book where I left it.
There is always tomorrow!
Whose idea was it to go the gym anyway?
The sound of the fire engine sirens wakes me up. I dozed off.  It is nearly 7.30 p.m. Time for dinner and I so happen to have a chicken dish I baked myself.  How about that? Did I mark "start cooking" off my list?
I heat it up and eat it in front of the TV watching the  news and the week review.  I love Sundays when there is no Monday.
Now, who knows what Monday will be like? Find out for yourself!