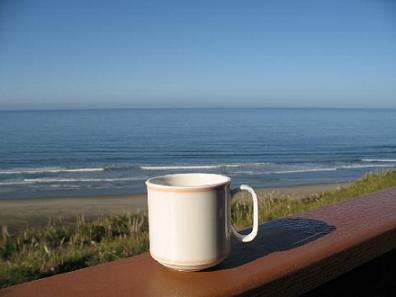 Good morning.  This one does not feel any different than all the mornings on my days off when I was working except that there is no need for me to review any files, finish any reports, or prepare any meetings for next week.  My desk is clear.  My phone is quiet. Delightful.
I love mornings.  I swear to myself, I don't care what I do in the future, but I will protect my mornings.  They are the guardian of my sanity.  To start the day on all cylinders is not how I want to be, going forward.  Note to self:  Don't mess with my mornings! They are sacred.
I am still jet lagged and still waking up very early.  I can't wait to get up and have breakfast.  Then coffee and the daily newspaper. Heavens!
Mornings can easily stretch to noon if I am left alone.  These days this is exactly what happens.  I am left alone.  In fact there is no reference to anything.  I can get up, eat, read, sleep, go out and stay out for as long as I want and whenever I want. Wow!  I can't believe I made it to this stage.
There is a shift! from crazy busy, to slowly lazy! This feels like a trip from the outside in.  This is totally within my comfort zone!
I thought it would feel better than that though.  There is a bit of a no man's land feeling to it….like an echo that keeps coming back.
I am still working at rearranging the condo after my daughter's departure. I came across some surprises such as camping gear in the trunk of the car, partially deflated air mattresses in the basement locker, and dirty beddings in the laundry basket…not to mention size 10 men's tennis shoes…not hers or mine for sure!
Somehow, because I know these are the last remnants of her busy life in Vancouver, I don't mind. One last wash for old time sake!
But I have other things to do.  As previously planned, I meet my girlfriend downtown and we go through my mobile phone strategy and shopping need.  I need her to do this just as badly as I need to three square meals a day. Essential! This may sound silly but I work best when I can bounce ideas off of someone.
Nothing like a partner!
In the end, because a new I-phone is coming out at the end of the month, her best advice is to wait a little bit more as more promotions will be taking place.  I like that kind of advice.  Put it off until later!
As for any good shopping days, we end up at the bar.
Some days I love shopping! See what is in store for tomorrow.